Rita Williams-Garcia, author of eight award-winning novels, won one of the highest honors for children's and young adults' books on January 28, 2014. In the much-anticipated news release of the youth media award winners, the American Library Association announced that Williams-Garcia had won the  Coretta Scott King (Author) Book Award recognizing an African American author of outstanding books for children and young adults.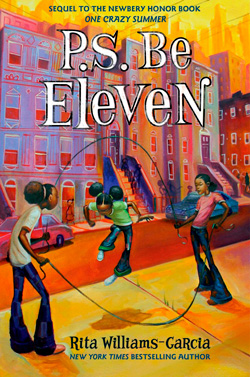 Williams-Garcia's P.S. Be Eleven is the King Author Book winner for 2014. The book—published by Amistad (an imprint of HarperCollins Publishers)—is  about the Gaither sisters who return to Brooklyn after a summer spent with their mother in Oakland, California. Delphine, Vonetta and Fern thrive in the tumultuous era of the late 1960s, but Delphine is tasked by her mother to, "P.S. Be Eleven." The book is the stand-alone sequel to One Crazy Summer, Williams-Garcia's novel from 2010 that was named a National Book Award Finalist, the Newbery Honor, The Coretta Scott King Honor, the Scott O'Dell Prize for Historic Fiction, among other awards and lists.
The Coretta Scott King Book Awards are presented annually by the Coretta Scott King Book Awards Committee of the ALA's Ethnic and Multicultural Information Exchange Round Table to encourage the artistic expression of the African American experience via literature and the graphic arts; to promote an understanding and appreciation of the black culture and experience, and to commemorate the life and legacy of Mrs. Coretta Scott King for her courage and determination in supporting the work of her husband, Dr. Martin Luther King Jr., for peace and world brotherhood.
Known for their realistic portrayal of teens of color, Williams-Garcia's works have been recognized by the Coretta Scott King Award Committee, PEN/Norma Klein Award, American Library Association, and Parents' Choice, among others. She recently served on the National Book Award Committee for Young People's Literature, and she sponsors a short story contest for young writers. Williams-Garcia has taught on the faculty of the MFA in Writing for Children & Young Adults since July 2005, and continues to be a popular and influential writing and teaching role model.
The awards were announced today at the American Library Association Midwinter Meeting, being held Jan. 24 – 28 in Philadelphia and will be presented in Las Vegas at the ALA Annual Conference in June.
Read more about Rita Williams-Garcia in her VCFA faculty profile and on her website.