Our second Vermont Book Award goes to Major Jackson for his poetry collection Roll Deep. Major won the award during the Vermont Book Award Gala on September 24, 2016.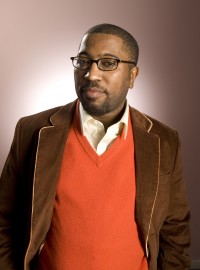 Major Jackson is the author of four collections of poetry: Roll Deep (W.W. Norton: 2015), Holding Company (W.W. Norton: 2010), Hoops (W.W. Norton: 2006), and Leaving Saturn (University of Georgia: 2002), which was awarded the Cave Canem Poetry Prize and was a finalist for the National Book Critics Circle Award in Poetry. He has published poems and essays in AGNI, American Poetry Review, Callaloo, Harvard Divinity Bulletin, The New Yorker, The New York Times Book Review, Paris Review, Poetry, Tin House, and other fine literary periodicals. His poetry has been included in Best American Poetry (2004, 2011, 2013, 2014) and Best of the Best American Poetry. He is the editor of Library of America's Countee Cullen: Collected Poems. Major Jackson is a recipient of a Guggenheim Fellowship, National Endowment for the Arts fellowship, Pushcart Prize, a Whiting Writers' Award, and has been honored by the Pew Fellowship in the Arts and the Witter Bynner Foundation in conjunction with the Library of Congress. He has served as a creative arts fellow at the Radcliffe Institute for Advanced Study at Harvard University and Fine Arts Work Center in Provincetown. He is a core faculty member of the Bennington Writing Seminars and the Richard A. Dennis Professor at University of Vermont. He serves as the Poetry Editor of the Harvard Review.
In Roll Deep, a breakthrough volume, Major Jackson appropriates the vernacular notion of "rolling deep" to capture the spirit of aesthetic travel that defines these forceful new poems and brazenly announces his steady accretion of literary and artistic influences, both formal and experimental—his "crew." The confident and radiant poems in Roll Deep address a range of topics, most prominently human intimacy and war. And like his best work to date, these poems create new experiences with language owed to Jackson's willingness to once again seek a rhythmic sound that expresses the unique realities of the twenty-first century with humor and understanding. Whether set in Nairobi, Madrid, or Greece, the poems are sensuously evocative and unapologetically with-it, in their effort to build community across borders of language and style.
Congratulations to the 2016 Vermont Book Award finalists.
Children's literature
Jo Knowles, Read Between the Lines: Does anyone ever see us for who we really are? This Young Adult novel of interlocking stories peers behind the scrim as it follows nine teens and one teacher through a seemingly ordinary day.
Tamara Ellis Smith, Another Kind of Hurricane: In this stunning debut novel, for middle grade readers, two very different characters—a black boy who loses his home in Hurricane Katrina and a white boy in Vermont who loses his best friend in a tragic accident—come together to find healing
Poetry
David Huddle, Dream Sender: An account of spiritual survival through the practice of literary art, the poems in Dream Sender move among a variety of poetic forms and voices.
Julia Shipley, Academy of Hay: This debut collection lingers in the liminal spaces where transition and connection occur. Academy of Hay delivers a feminist response to our world straight from the earth.
Creative nonfiction
Sean Prentiss, Finding Abbey: When the great environmental writer Edward Abbey died in 1989, four of his friends buried him secretly in a hidden desert spot that no one would ever find. This book follows the author who went looking for Abbey's grave, combining an account of his quest with a creative biography of Abbey.
Fiction
Castle Freeman, Devil in the Valley: Placed in the classic setting of rural Vermont, this novel tells a story of temptation and greed, and explores what we're willing to trade to obtain the things we most desire. It's a memorable story that explores the supernatural while staying rooted deeply in our world.
Jeffrey Lent, Slant of Light: At the close of the Civil War, a weary veteran returns to his home in western New York State to find his wife and hired man missing and his farm in disrepair. A double murder ensues, the repercussions of which ripple through a community with spiritual roots in the Second Great Awakening.
Jennifer McMahon, The Night Sister: This novel is an atmospheric, gripping, and suspenseful tale that probes the bond between sisters and the peril of keeping secrets.
Contact:
Miciah Bay Gault
Program Director, MFA in Writing & Publishing
Editor, Hunger Mountain
Miciah.Gault@vcfa.edu
---
Nominating Committee of Independent Booksellers of Vermont
Bear Pond Books
Claire Benedict, Vermont Book Award Nominating Committee Chair
77 Main St.
Montpelier, VT 05602
802-229-0774
www.bearpondbooks.com
Next Chapter Bookstore
Cynthia Duprey
158 North Main St.
Barre, VT 05641
802-476-3114
www.nextchapterbooksvt.com
Village Square Booksellers
Alan and Pat Fowler
32 The Square
Bellows Falls, VT 05101
802-463-9404
www.villagesquarebooks.com
The Bennington Bookshop
Linda Foulsham and Phil Lewis
467 Main Street
Bennington, VT 05201
802-442-5059
www.benningtonbookshop.com
Phoenix Books
Tod Gross, Manager
191 Bank Street
Burlington, VT 05401
802-448-3350
www.phoenixbooks.biz
21 Essex Way
Essex, VT 05452
802-872-7111
Galaxy Bookshop
Andrea Jones and Sandy Scott
41 South Main St.
Hardwick, VT 05843
802-472-5533
www.galaxybookshop.com
Ebenezer Books
Jennifer (JJ) Indeliclae
2 Lower Main St.
Johnson, VT 05656
802-635-7472
Connect with them on Facebook here!
Northshire Books
Debbi Wraga
4869 Main Street
Manchester, VT 05255
802-362-2200
www.northshire.com
The Vermont Book Shop
Becky Dayton
38 Main St.
Middlebury, VT 05753
802-388-2061
www.vermontbookshop.com
Norwich Bookstore
Liza Bernard
291 Main St.
Norwich, VT 05055
802-649-1114
www.norwichbookstore.com
The Flying Pig Bookstore
Elizabeth Bluemle and Josie Leavitt
5247 Shelburne Road, Suite 102
Shelburne, VT 05482
802-985-3999
www.flyingpigbooks.com
Bridgeside Books
Hiata DeFeo
29 Stowe St.
Waterbury, VT 05676
802-244-1441
www.bridgesidebooks.com
Bartleby's Books and Music
Lisa Sullivan
17 West Main St.
Wilmington, VT 05363
802-464-5425
www.bartlebysvt.com