Composer, pianist and musical director Diane Moser, Faculty, MFA in Music Composition, is in the midst of an exploration into sound, time and place...through silence.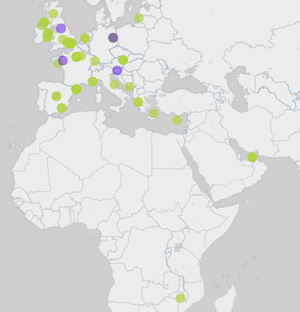 Also a faculty member at the New School for Jazz and Contemporary Music in New York City, Moser is part of a collaboration with the New School, the Museum of Modern (MoMA), and Parsons New School for Design that explores sound in perceived silence through their exhibition, There Will Never Be Silence: Scoring John Cage 4'33".
This project is a special edition of 'Sound In Time and Place', called "Exploring the Sound in the Silence", a class in which students compose and record music based on elements of this exhibit. The music will be installed then on a Sound Map on the MoMA website. Students are collaborating with Spencer Kiser, Media Technology Developer in MoMA's Digital Department, who is developing an application for museum visitors based on the student compositions. The group is also collaborating with Ed Keller, designer, professor, writer, musician, multimedia artist and Associate Dean of Distributed Learning and Technology and Associate Professor at School of Design Strategies at the Parsons New School for Design. Together, they are combining student compositions with sensory and visual technologies. The only requirement is that the student must be open to experiencing and composing new music.
MoMA explains the current Sound Map this way:
What does the world sound like where you are?

Listen to what you hear at home and outdoors, at MoMA, in nature and in the city. Make a field recording and submit it to us via our Soundcloud DropBox to share on our MoMA Studio Sound Map. Be sure to ZOOM IN to hear the multitude of recordings in particularly populated areas...Selected recordings will be added to our Sound Map.
People from around the world are contributing their "sounds of silence", uploading their files in the required manner, and participating in a global exploration.
As MoMA describes in the notes about There Will Never Be Silence: Scoring John Cage 4'33", "Cage saw silence as a way to plug the audience into the sound track of everyday life, to open them up to the infinite possibilities of ambient sound." 4'33" (In Proportional Notation) is the earliest surviving score for Cage's "silent piece," first performed by the pianist David Tudor in Woodstock, New York, on August 29, 1952. Tudor sat quietly at the piano during the premiere, opening and closing the keyboard lid to mark the progression of the three movements, while the audience waited in anticipation. The sound of rain, the movements of the audience, and other ambient sounds became the music.
Diane and company will undoubtedly produce a fascinating interpretation of their own versions of silence.