VCFA is home to groundbreaking, rigorous, and independent low-residency graduate degree programs in writing (with three separate programs), visual art, music composition, graphic design, film, and art & design education.
Download the free article on how you can get your MFA without leaving your life.
Low-residency MFA and Masters programs represent an alternative path—the future of graduate education in America. In this article, find out the details about VCFA's mode of contemporary, affordable graduate education:
The real story behind the low-residency model.
The single most important advantage of low-residency programs: one-on-one mentoring.
How the low-residency model forms life-long artistic practices.
Find out why those who have experienced the enormous power of a Vermont College of Fine Arts graduate education call it "a transformative experience."
Work and go to school at the same time; study on your own terms, in your own time. Seven low-residency MFA programs integrate seven- to ten-day, on-campus intensives conveniently scheduled every six months, while our low-residency MAT/MA graduate program in Art & Design Education includes a two-week summer residency—all in beautiful Montpelier, Vermont.
Want to learn more?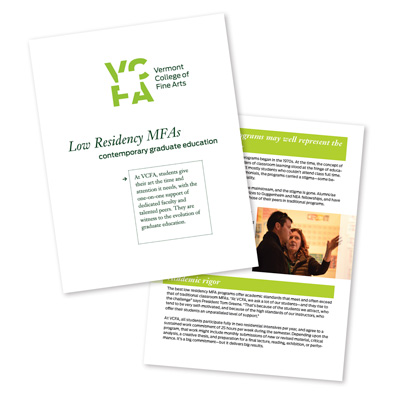 ---
Learn more about our low-residency programs: