When each program residency is in session, students have the option to stay on campus. This encourages cohesiveness and a sense of community, both of which are central to the learning experience. 
Housing
Vermont College of Fine Arts offers classic New England dormitory housing for overnight accommodations. Most dorm rooms consist of two beds per unit, with desks, lamps and closets. Single rooms are available upon request. Each floor offers a lounge area and community showers and bathrooms, and each building houses a kitchenette. Coin-operated laundry facilities are available in-house.
---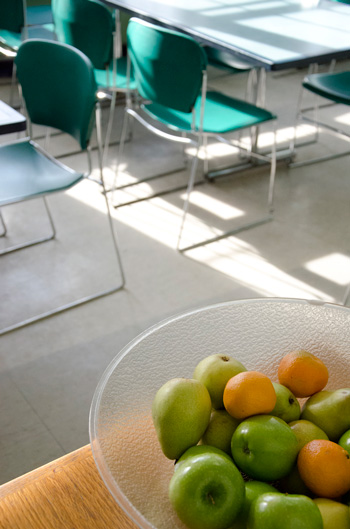 Dining
Dewey Cafeteria and Café Anna in College Hall
At Dewey Cafeteria, enjoy wholesome cafeteria fare created by New England Culinary Institute (NECI) students, in a classic college dining hall experience. Serving breakfast, lunch, and dinner in cafeteria-style, students, faculty and staff gather to enjoy daily meals together.
Located on the first floor of College Hall, Café Anna is open daily serving hot coffee, tea, espresso drinks, breakfast, lunch, and café fare. Evening hours with bar service also available during select residencies and for special events.
Dewey Cafeteria and Café Anna are happy to accommodate a variety of dietary restrictions.
Dewey Cafeteria Hours
Breakfast: 7:30 am - 8:30 am
Lunch: 11:15 am - 1:00 pm
Dinner: 5:30 pm- 7:00 pm